Now that we got used to curved screen devices what's more left for us to see? Well, the Samsung foldable smartphone that is long overdue and is, of course, the next big innovation that Samsung is yet to shed some light. Back in 2015, it is rumored that the company might launch it in 2016, i.e., 2016 but that hasn't happened yet and won't be happening till Dec 31st. Now a new report shows up saying that the first foldable Samsung phone codenamed Project Valley will go official in 2016.
Though we kept reading stories and hearing rumors, we never got to the part where we can see how the foldable smartphone might look like. But, that's in the past now, thanks to the patent application that is uncovered today, we get to see three rendered images and a sketch that you can see were just made public. And going by the pictures, it's quite clear that it is indeed the foldable smartphone that we've all been waiting for.
From the design, the device looks like the return of Flip phone, but only with one huge bendable screen. The hinge design reminds us very much of the Microsoft Surface book, meaning the two parts of the device won't be parallel when closed or bent. Moving along, the front panel has the traditional Samsung home button between Back button on the right and a Menu button on the left. The display aspect looks like it's 21:9, but it needs to be seen how Samsung would use all the real estate given how tall and narrow it is.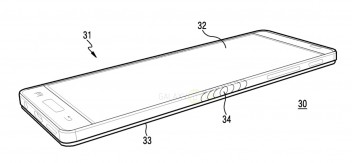 Samsung might market the project valley smartphones under the Galaxy X series. Let's see when will this Galaxy X will see the light.